BALLET TROUPE CROATIA - ZAGREB / BALETNI ANSAMBL CROATIA - ZAGREB
Tvrđava Gripe / Gripe Fortress : 28. srpanj / July 2004 srijeda / wednesday 21.00
Opening night: Croatian National Theatre in Zagreb, June 13, 2004 / Premijera: HNK u Zagrebu / 13. 06. 2004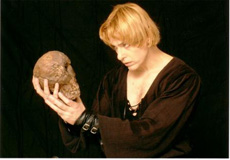 Based on concept by SLAVKO PERVAN / Prema zamisli SLAVKA PERVANA
Choreography and Directing / Koreografija i režija: SVEBOR SEČAK
Libretto after W. Shakespeare / Dramaturg, prema Shakespeareu: DARKO LUKIĆ
Set and light designer / Scenografija i oblikovanje svjetla: DINKA JERIČEVIĆ
Costume designer / Kostimograf: BARBARA BOUREK
Sound engineer / Majstor zvuka: ŽELJKO JEDINAK
---
Uloge / Cast
Hamlet: SVEBOR SEČAK
Ophelia / Ofelija: TINA VRTARIĆ STIPIĆ
Gertrude, Hamlet's mother / Kraljica Gertruda, Hamletova majka: LYDIA MILA MILOVAC
Laertes, Ophelia's brother / Laert, Ofelijin brat: SVEN COPONY
Claudius, Hamlet,s uncle / Kralj Klaudije, Hamletov stric: MARK BOLDIN
Polonius, Ophelia's and Laertes's father / Polonije, otac Ofelije i Laerta: NICOLAE VASC
Ghost of Hamlet's father / Duh Hamletova oca: ANDREJ IZMESTJEV
BALETNU TRUPU CROATIA 1994. godine osnovao je Svebor Sečak, prvak Baleta HNK u Zagrebu s ciljem promoviranja baletne umjetnosti u Hrvatskoj i inozemstvu. Zahvaljujući svojoj mobilnosti, predstave su im do sada obišle cijelu Hrvatsku i većinu susjednih zemalja, a, uz nastupe u Jordanu i Južnoafričkoj Republici, osobito su ponosni na dva gostovanja u londonskom Covent Gardenu.
Svoju desetu obljetnicu ansambl je nedavno obilježio dvjema predstavama - "Plesom kadeta", kojim je trupa i započela rad 1994., te novom predstavom "Hamlet". Autorski tim, kojeg čine Svebor Sečak, Slavko Pervan i Darko Lukić već je uspješno kreirao "Peer Gynta" u riječkom HNK, te se stoga ista ekipa okupila i oko novog projekta. Izbor je pao na "Hamleta", koji je zamišljen kao predstava klasične koreografije, ali s nešto suvremenijom režijom, scenografijom i kostimografijom. Glazbenu okosnicu novog plesnog "Hamleta" predstavljaju djela Petra Iljiča Čajkovskog, i to ne samo njegova istoimena uvertira, nego i dijelovi uvertira "Oluja" i "Francesca da Rimini". Osim što potpisuje koreografiju, Svebor Sečak i pleše u naslovnoj ulozi "Hamleta", dok Ofeliju tumači Tina Vrtar Stipić.
BALLET TROUPE CROATIA is a professional classical ballet touring company consisting of dancers of the Croatian National Ballet in Zagreb, Croatia. The art of ballet professionally exists in Zagreb, Croatia, for 128 years. Ballet troupe Croatia" was formed ten years ago under the artistic leadership of Svebor Secak, the Principal dancer of the Croatian National Ballet in Zagreb. He graduated at the Ballet school in Zagreb and for postgraduate studies went to St. Petersburg, Russia, to the Vaganova Academy. In his career he danced most of the leading roles of the classical, contemporary and national repertoire all throughout Europe and the USA. He is a regular guest of the Verona Ballet, Italy. Ballet troupe Croatia has given more than 250 guest performances all throughout Croatia and other European countries with its programmes: Graduation Ball (J. Strauss Jr.), Giselle II act (A. Adam), Mixed ballet programmes (contemporary triple bills, Peer Gynt Suite, famous Pas de Deuxs), The Gingerbread Heart (K. Baranovic), The Merry Widow (F. Lehar), etc. Ballet troupe Croatia has performed at the Millennium Dome in London in April 2000 and already twice at the Royal Opera House Covent Garden in London, in 2001 and 2002, which just proves that it has the necessary quality to perform at one of the most prestigious theatres in the world for ballet companies. BTC also participated at the JERASH FESTIVAL in Jerash, Jordan and this summer BTC were participants of the National Arts Festival in the Republic of South Africa.