HNK Split / CNT Split : 02. VIII 2004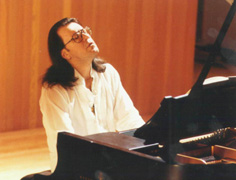 FREDERIC CHOPIN
Nokturno u Des-duru, op. 27, br. 2 Nocturne Op. 27 - 2 Des-dur
Nokturno u cis-molu, op. posthumni Nocturne posthume cis-moll
Etida u cis-molu, iz opusa 10 Etude Op. 10 - 4 cis-moll
Nokturno u Fis-duru, op. 15, br. 2 Nocturne Op. 15 - 2 Fis-dur
Nokturno u H-duru, op. 32, br. 1 Nocturne Op. 32 - 1 H-dur
Etida u Es-duru, iz opusa 10 Etude Op. 10 - 11 Es-dur
Nokturno u c-molu, op 48, br. 1 Nocturne Op. 48 - 1 c-moll
Nokturno u F-duru, op 15, br. 1 Nocturne Op. 15 - 1 F-dur
Etida u c-molu, iz opusa 25 Etude Op. 25 - 12 c-moll
---
SERGEI PROKOFIEV
Baletna suita "Romeo i Julija" Ballet Suite from Romeo and Juliet
ANDREJ GAVRILOV uživa rijetku međunarodnu reputaciju kao jedan od najvećih pijanista današnjice. Njegova karijera ispunjena je nastupima s ponajboljim svjetskim orkestrima i dirigentima, brojnim nagrađivanim CD snimkama, i naravno, superlativima kritičara.
Rođen u Moskvi 1955. Gavrilov je u svijet vrhunskog pijanizma ušao suvereno: pobjedom na natjecanju Čajkovski 1974. i trijumfalnim débutom na Salzburškom festivalu. Slijedi londonski début, s Paavom Berglundom i Simfonijskim orkestrom Bournemoutha u Kraljevskoj festivalskoj dvorani, pa velika europska turneja s Berlinskom filharmonijom, a potom i nastupi u svim većim koncertnim dvoranama.
Krajem sedamdesetih branjeni su mu svi nastupi izvan tadašnjeg SSSR-a, sve do 1985. kad , zahvaljujući liberalizaciji Mihaila Gorbačova, postaje prvi ruski umjetnik kojem je odobren izlaz iz SSSR-a i ostanak na Zapadu bez političkog azila.
Gavrilov ponovno trijumfalno ulazi u Englesku; održava recitale u dvorani Barbican i opet u Kraljevskoj festivalskoj dvorani. Slijedi début u Carnegie Hallu 1985., sa sjajnim osvrtom u listu The New York Times.
Otada nastupa s orkesrima Chicaga, Philadelphie, Montreala, Londona, Beča, Pariza, Berlina, Munchena, Amsterdama ... s vodećim dirigentima: Abbado, Haitnik, Mutti, Ozawa, Svetlanov, Tennstedt i Simon Rattle. Slijede recitali u Varšavi, San Sebastianu, Bilbau, Rimu, Tallinnu, Ateni, Ansterdamu, Oslu, Lisabonu i Tokiju ...
Veliki povratak u Rusiju ostvario je 2001, recitalima u St. Petersburgu i Moskvi gdje je, u Kazalištu Boljšoj, izveo četiri klavirska koncerta u jednoj večeri. U periodu od 1976. do 1990. Gavrilov je snimao ekskluzivno za EMI. Diskografske nagrade iz tog perioda uključuju nagradu Gramophone 1979., Deutscher Schallplattenpreis 1981., Grand Prix Internatimal Record Critics Award 1985. te Premio Internazionale Academia Musicale Chigiana 1989. kada ga kritičarski žiri proglašava najvećim pijanistom na svijetu. Godinu prije izabran je kao jedan od pijanista koji predstavljaju Philipsovu grupu svjetskih pijanista za kolekciju XX stoljeća. U listopadu 1990. Gavrilov potpisuje ekskluzivni ugovor s kućom Deutsche Gramophon za koju snima djela Chopina, Prokofjeva, Schuberta, Bacha i Griega.
Andrej Gavrilov živi u Luzernu sa suprugom, Japankom, koja je također pijanistica i njihovim sinom Arsenijem. Kada se ne bavi glazbom, bavi se slikanjem, pisanjem scenarija, poezijom, filozofijom, poviješću, nogometom i tenisom.
ANDREI GAVRILOV was born in Moscow in 1955. He won first prize in the 1974 International Tchaikovsky Competition and in the same year made a triumphant international dèbut at the Salzburg Festival. He has subsequently enjoyed a distinguished international career which has included performances with many of the world's greatest orchestras.
Andrei Gavrilov made his London debut in 1976 with Paavo Berglund and the Bournemouth Symphony Orchestra in the Royal Festival Hall. In 1978 he performed with the Berlin Philharmonic in a major European concert tour. By 1980 he had performed in all the major cultural centres in the world.
Andrei Gavrilov made a triumphant return to the British concert platform in 1984, after a politically enforced absence, giving recitals at the Barbican and the Royal Festival Hall. He successfully petitioned Mikhail Gorbachev for his freedom, and became the first Soviet artist to be granted permission to stay in the West without having to file for political asylum.
Following his Carnegie Hall debut in 1985, Andrei Gavrilov was proclaimed as a major artist by New York Times' Donal Henahan. He has since performed with orchestras in New York, Chicago, Philadelphia and Montreal, London, Vienna, Paris, Berlin, Munich, Amsterdam and Tokyo, with conductors including Abbado, Haitink, Muti, Ozawa, Svetlanov and Tennstedt. Recent engagements include recitals in Warsaw, San Sebastian, Bilbao, Rome, Tallinn, Athens and Lisbon.
Between 1976 and 1990, Andrei Gavrilov was an exclusive artist with EMI, winning several international prizes including a Gramophone award in 1979, Deutscher Schallplattenpreis in 1981, Grand Prix International du Disque de L'Academie Charles Crois in 1985 and 1986, and International Record Critics Award (IRCA) in 1985. Among his other awards are the 1989 Premio Internazionale Accademia Musicale Chigiana (the jury of music critics proclaiming him as the greatest pianist in the world), and the Board of International Research of American Biographical Institute (ABI) "Man of the Year" commemorative medal, "Gold Record of Achievement" and "World Lifetime Achievement" awards, in recognition of his contribution to society. In 1998 Andrei Gavrilov was selected as one of the pianists to be featured in Philips Music Group's Great Pianists of the Twentieth Century collection.
In October 1990 Andrei Gavrilov signed an exclusive contract with Deutsche Grammophon, leading to acclaimed recordings of Chopin, Prokofiev, Schubert, Bach and Grieg.
"ANDREI GAVRILOV IS COOLLY MASTERFUL IN BACH AND HANDEL, AND WHILE SYMPHATHETIC IN MOZART, CHOPIN, SCHUMANN AND GRIEG, HIS GREATEST ACHIEVEMENT HERE IS IN THE SET OF TEN PIECES THAT PROKOFIEV EXTRATED FROM HIS ROMEO AND JULIET BALLET. THESE, PLUS THE FIRST PIANO CONCERTO AND KEY WORKS BY TCHAIKOVSKY, SCRIABIN (FOURTH SONATA) AND RACHMANINOV, MAKE FOR A SPECIALLY DESIRABLE COLLECTION."
Great Pianists of the Twentieth Century, Philips/Rob Cowan, Gramophone, November 1999
During the 2001/2002 season Andrej Gavrilov will be performing in numerous European cities, as well as making appearances in Korea, China, Canada, and the USA.