HNK Split / CNT Split : 01. VIII 2004
Premijera / Opening night: 08. II 2004
Trajanje / Duration: 85 min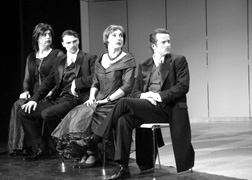 Redatelj / Directed by : SAMO M. STRELEC
Prijevod / Translation : JOŽE JAVORŠEK
Dramaturzi / Dramaturgues : JASEN BOKO, VILI RAVNJAK
Scenograf / Set Designer : MARKO JAPELJ
Kostimograf / Costume Designer : ALAN HRANITELJ
Scenski pokret / Stage movement: VALENTINA TURCU
Oblikovatelj svjetla / Light Designer : TAMAS BANYAI
Dizajner maske : Mask Design : MIIRJANA ĐORĐEVIĆ
---
Uloge / Cast
VOJKO BELŠAK
TADEJ TOŠ
NENAD TOKALIĆ
GREGOR GEČ k.g.
MOJCA SIMONIČ
BOJAN KOLETNIK k.g.
URŠA RUPAR k.g.
JASMINA VIDENŠEK k.g.
IGOR UNUK
DRAGAN ILIĆ
BORUT VERŠIČ
DAVID GLAVICA
DAVID RADIVOJ
ĆELAVI ENGLESKI BEZ BOLI Spada u noviju anegdotsku povijest da je prvotni naziv Ćelave pjevačice bio Engleski bez boli / English without Pain, jer je Ionesco pokušavao naučiti taj jezik. Impresioniran ispraznošću dijaloga koji bi znatiželjnika trebali upoznati s tipično engleskim situacijama, Ionesco je ustanovio da apsurdnije dijaloge ni sam ne bi uspio napisati, pa ih je stao tek "stilski" dotjerivati. Sve ostalo, povijest je uvijek suvremene komedije apsurda, koja s pozornica ne silazi još od vremena prvih premijera, na francuskom, pedesetih godina 20. stoljeća. Igrajući je u početku kao parodiju, doskora su njeni privrženici shvatili da je mnogo efektnija ako se igra posve ozbiljno, gotovo ibsenovski.
A za koji se postupak odlučio Umjetnički ravnatelj mariborske Drame Samo M. Strelec lako je zaključiti iz njegovog umjetničkog creda: "Za čuda treba vjerovati u Bogove, a za umjetnost u ljude, ali tek ako ih prostrijeli božansko nadahnuće. Tek takva, božanska energija u teatru čini da se smijemo do suza ili da plačemo od ganutosti. Za umjetnost - sve drugo je premalo."
"ALMOST IN SPITE OF HIMSELF" In 1948, Eugene Ionesco began writing The Bald Soprano, as he later confessed, almost in spite of himself, for by that time he had come to despise the theater that he had much loved in his youth. What did intrigue him was the banality of the expressions used in an English-language phrase book. These phrases were the inspiration for this anti-play or parody, "a comedy of comedies." Although he set out to show how human discourse had devolved into a collection of empty platitudes and self-evident truisms, something that he believed was very distressing, his friends found his play very amusing, and they encouraged him to find a theater that would stage it. It was under Bataille's direction that La Cantatrice chauve was first produced in French at the Theatre des Noctambules in Paris on May 11, 1950. In rehearsal, the company had first tried staging the play as parody but had soon discovered that it worked best if presented as wholly serious drama, in the realistic mode of Ibsen. They had also experimented, trying several different endings, for example. Essentially, even after it opened, La Cantatrice chauve remained a work in progress.
The first staging was poorly received. Only the dramatist Armand Salacrou and the critic Jacques Lemarchand praised it. However, the negative responses mattered little to Ionesco, who "suddenly … realized that it was his destiny to write for the theatre." He began a series of "anti-plays" that within a decade established his place in the new-French theater, the group of avant-garde playwrights that included Samuel Beckett, Arthur Adamov, and Jean Genet. In the 1950s, La Cantatrice chauve was translated into various languages and widely staged; by 1960, in the United States, where it had been translated and produced as The Bald Soprano, it was already being recognized as a modern classic, an important seminal work in the theater of the absurd, which by then was first coming into vogue in America.